Additional Details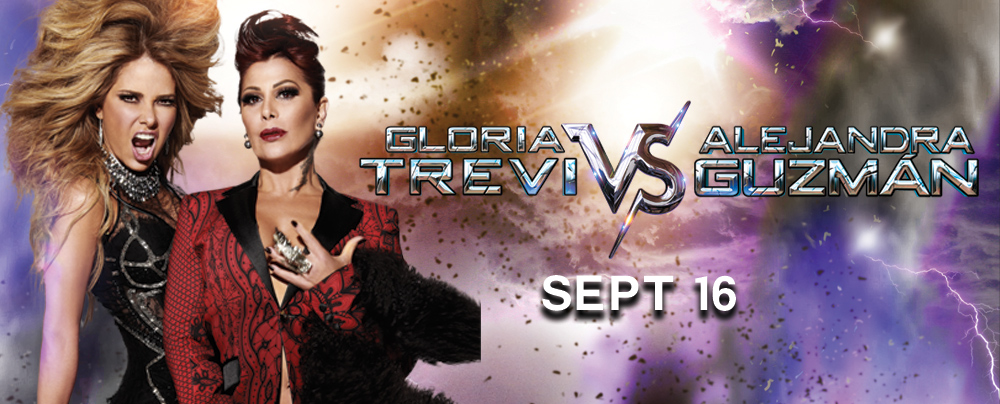 GLORIA TREVI vs ALEJANDRA GUZMAN
September 16, 2017 - 8:00 PM
GLORIA TREVI vs ALEJANDRA GUZMÁN
ADD NEW DATES TO THEIR ALREADY SUCCESSFUL U.S.TOUR
GILA RIVER ARENA SEPTEMBER 16
Tickets on sale Friday April 7th at 10am
Glendale, AZ (Friday March 31st, 2017). As expected, one of the most awaited events of the decade keeps making history. Latin Pop Rock living legends GLORIA TREVI and ALEJANDRA GUZMÁN keep breaking ticket sale records, demonstrating once again the strength of their legacies and their star power.
Thanks to the stratospheric public demand, we announce today new dates for VERSUS. Among many others, the iconic Madison Square Garden in New York and The Colosseum at Caesars Palace in Las Vegas will be part of this historic alliance.
Tickets go on sale Friday, April 7 at 10AM and are available at the Gila River Arena Box Office, by phone at 800.745.3000, or online at gilariverarena.com.
A portion of each ticket sold will be donated to the Mexican American Legal Defense and Educational Fund (MALDEF) and the National Day Laborer Organizing Network (NDLON) to benefit their Immigrant Defense Fund. The partnership between the artists and the leading civil rights institutions comes at a crucial and divided time in the United States.
Alejandra Guzmán and Gloria Trevi, individually, are two of the most legendary artists of music sung in Spanish. Throughout the years entire generations have been influenced by the two icon's music, style, ideologies and performances. The rivalry between them, mainly attributed to the media, has been the subject of endless stories and controversies.
The two artists have reached the status of most transcendent and successful Mexican Pop/Rock creators and ambassadors of all time. More than 60 Million records sold, more than 100 international hit songs, more than 3000 concerts, more than 600 accolades and motion pictures are some of the achievements that these two idols have accomplished.